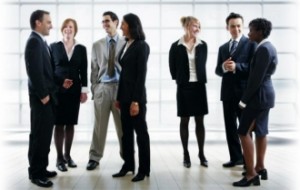 Earlier this year, I went to an all day workshop primarily for career advisers where the planners did a great job in allowing enough time for those of us attending to meet one another and have time to talk. In fact, there was a "networking lunch" for even more opportunities to meet and talk with each other.
Before the workshop began, I met a graduate student who was interested in working at a community college setting as a career counselor. I believe I have a pretty good knowledge base about this topic and was looking forward to sharing what I knew with him. He created a positive first impression based on his:
demeanor

enthusiasm

good eye contact

overall likability factor
Based on what he was saying, I could tell that he was didn't know too much about becoming a community college counselor, but his body language indicated that he was quite eager to learn. However, the workshop was now starting up and we all had to return to our seats. I figured that he and I could simply catch up during the networking lunch. However, as lunch rolled around, he was nowhere to be found.
The workshop continued on and was eventually coming to an end. I was getting very tired (networking sometimes really drains my energy) but anxious to get going as I had dinner plans. But lo and behold, the guy that I had met earlier was keen on resuming our earlier conversation. He shared that he met up with a friend during lunch as his friend worked nearby. I shared that I had to get going as I had a previous engagement to get to. I gave him my contact information and left.
I immediately thought that for someone wanting to be a college career counselor, he didn't take advantage of all the networking opportunities available at this workshop. Had he stayed for lunch and for some reason could not connect with me, then there were still a number of other college counselors with whom he could have spoken. This group of mostly career advisers attending the workshop seemed particularly open and friendly, and if I were the student, I would have seized the opportunity to network in order to:
meet not just new people, but people who worked in positions that I wanted to pursue

meet people I might be working with one day


learn about tips and advice about becoming a community college career counselor

meet people I could do an informational interview with later on

practice the "art" of networking to get better at it
On the other hand, am I being too harsh and rigid here? I have the benefit of experience and in my work, I see and hear first hand how useful networking is. What do you think?

Questions: Is it really worth it to network every chance you get? Would you have rescheduled the lunch with a friend and stuck around during lunch to network with other people?