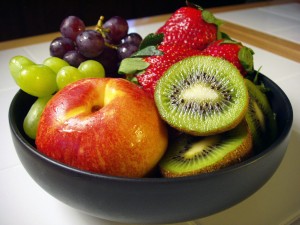 Picture this: you're finally at the office of the person with whom you've wanted to informational interview for a long time. Or, it's down to a final interview for that job that you've coveted for so long. And the only thing that you can think about is – dang, I'm really, really hungry! Or during the actual interview, your stomach makes grumbling noises like never before.
When life gets hectic, and at times even stressful, it's easy to forget one of the most important keys to success: making sure to eat healthy foods throughout the day. Only if you give your body the fuel it needs, will you be able to perform your best. This is especially important before energy intensive events, such as in-person meetings for informational interviews, networking events, or job interviews, as well as various every day activities. Only with the proper fuel will you have the energy you need to feel your best and to perform your best.
Here are some tips on how to make sure you get the proper fuel:
Start every day with a healthy breakfast, such as:

Oatmeal, fruit, and some yogurt

Toast and eggs

Cereal that is high in fiber and low in sugar, milk, fruit

Breakfast burrito (whole wheat tortilla filled with sauteed veggie & eggs)

Drink coffee in moderation; you don't want to have the jitters and then crash a few hours later
Pack healthy snacks/mini meals in your bag and/or in your car so that you are prepared if there isn't time for a regular meal. You may want to invest in a small cooler/insulated lunch bag. Some of my favorite options are:

Fruit

Veggies & individual hummus packs

Energy bars

A small bag of nuts

String cheese

Yogurt

Pack your own lunch if you know there aren't any healthy options available. This also saves money! 🙂
Make sure you are hydrated throughout the day. If you are dehydrated you can feel tired and/or get a headache. Carry a refillable water bottle with you.
Remember to eat every few hours, so that you don't get too hungry.
Questions: Do you remember to eat regularly when life gets a bit hectic? Do you pay attention to eating nutritious foods? What is your favorite on-the-go snack?
Be well,
Andrea