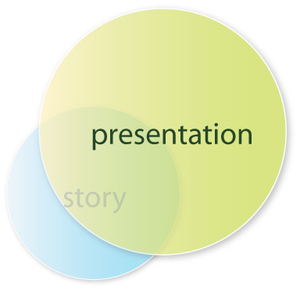 Even on my days off from work (for instance, today was a previously scheduled day off), I can't help but check my work e-mail from home. I found out earlier today that I'm on the agenda for a division meeting next week. I had let my boss know last week that I was interested at some point in sharing with my counseling colleagues the growing importance of personal branding, especially for students, in the context of career planning. I was thinking that I'd get the opportunity in a month or two, but lo and behold, it's next week. Be careful what you wish for, as the saying goes.
But actually, I'm very excited about presenting to my colleagues. As a big fan of personal branding, I strongly believe that this subject matter is one that my colleagues need to know about sooner than later since we all work with college students.
So right now as I type this post, I just finished creating a rough draft of my presentation using PowerPoint. I could probably deliver it tomorrow if I had to, but I want to try and deliver a presentation that'll leave a great impression with my colleagues, mainly because I respect all of them and want them to know that I actually do know about what I claim to know. I also want my colleagues to continue referring students to the career exploration classes that I teach, so to that end it'll be a very good thing if they like what (and how) I present next week.
Here's what I'll do prior to the presentation to better my chances of making a solid impression:
Prepare and practice
Prepare and practice
Prepare and practice some more
I'm sorta joking here, and my apologies if you don't find it funny. I've certainly learned first hand throughout the years about how critical preparation is when giving a presentation, as I've delivered a number of presentations with a wide range along the quality scale, from beyond bad (one of which was at an international career development conference) to pretty darn good, if I do say so myself. 🙂 So for real now, in preparing for my presentation, I'll be sure to be mindful of the following:
Figure out what I want to get across to my colleagues and how I want to do that
Keep the delivery of the content to the allotted time
Know my subject matter very, very well
Do a search on ways to deliver excellent presentations for reminders, and to stay current, on the best tips out there
Be sure to practice
Remember to just be myself during the presentation
I didn't know about these steps when I started giving presentations at work back when I first had to over ten years ago. Since then, I've gone through my share of ups and downs when it's come to giving presentations, and with each subsequent presentation, I've gotten better at it. So now that I've perhaps come across as a know-it-all, the pressure's on. I hope the presentation goes well. Wish me luck!