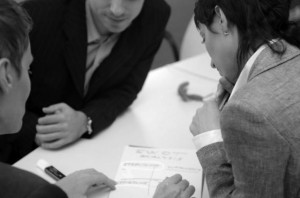 Congratulations to those of you who will be ending the spring term and going on to summer internships. This is an exciting time as this may be your first experience working in your desired field. While gaining an internship is a great start to your career, there is still much ahead of you.
I started my career as an intern myself and during my time I have seen many students successfully take an internship opportunity and turn it into a full-time role. What I have found is that attitude is one of the key things that separates good interns from great ones.
Here are 3 tips to make your internship experience a success:
1. Treat the internship like an "extended interview"
The internship experience allows both the organization and the student to get a sense of long-term viability. Both you and the organization are asking: Does this look like a long-term relationship?
When I started my internship, I basically told myself that I had the duration of my internship to earn a job. I knew that I would be competing against other interns or outside candidates when a counseling position opened up. The perspective that I took was to treat the internship as if I was being interviewed for a job the whole summer. I wanted to know if San Jose State was really the place that I wanted to be.
However, it isn't that simple. You might be able to see yourself working in the organization, but what about your supervisors and co-workers? Do they see you as a valuable employee?
While getting an internship is a great first step in starting your career you must also put in the work once you get the internship to support why you should be hired full-time.
2. Have a plan for success
It's quite challenging to succeed if you don't know how success is measured.
While it's easy to say that you'll go out and do your best and succeed, it is much more complex than that. First off, different organizations and positions will have individual measures of success.
When I started my internship, my strategy was to convert it to a full-time position. During my first week on the job, I started this process by meeting with my supervisor to ask questions about communication, management style, and other aspects of the company so that I could better understand her goals.
You should definitely ask these questions during the interview process and then continue to have dialogue with your supervisor during your internship. Being able to communicate with others is an important skill that will affect your ability to get the job done.
I tried to communicate from the start that I wanted to understand what was expected of me so I could deliver. In turn, my supervisor understood that my intent was to do my best, so if something wasn't working out quite as expected we could talk and I could reconfigure.
3. Get to know your co-workers
Your co-workers will become your future advocates, get to know them.
At Studentbranding.com we talk about networking all the time.  As cliche as it may sound, this is the way that most people find work. Your internship experience will be a great way for you to get some introductory skills and to meet some of the key players in your field.
During your internship, you may come across many individuals you can learn different things from. You may learn about specific skills, work styles, or you may even decide that you want to take your career in a slightly different direction than you originally thought.
One of the aspects that I really liked about my internship was that I had the opportunity to sit down and do informational interviews with various employees in my office. I learned about the different career paths people took as well as the challenges people faced in their positions. As a result of these conversations, I was able to identify ways to help specific people in my office.
Additionally, as busy as you may be, it is smart to make an effort to attend formal and informal gatherings. Even things as simple as getting coffee or lunch allow you to get the chance to know your co-workers. When the time comes that you may need some help, it is much easier to ask people that you have made the effort to get to know.
When your internship ends, you may find that some of the people that you worked with or came into contact with have moved onto other organizations. This will be helpful to you because your network of contacts will extend beyond your internship location.
[Note: This post was originally written for Dan Schawbel's Student Branding Blog.]