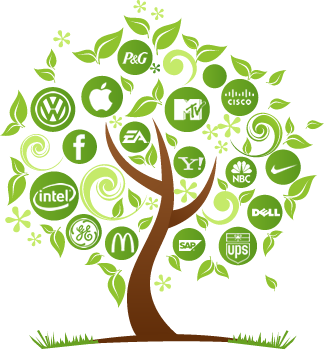 Most people I know use Facebook to keep up with their friends and family, while forging and maintaining professional relationships on LinkedIn. Most of us are aware how we use Facebook to share comments, information, pictures, and videos with our friends and family. LinkedIn was developed to meet new professional contacts, while keeping in touch with established ones.
Until now, there has been no crosstalk between the two sites; that is, they have operated independently, and there has been no way to leverage both Facebook and LinkedIn simultaneously to advance your career.
The founders at Branch Out maintain that the majority of people find new jobs through their network of "real friends," or through direct networking. They also say that most of us keep our real friends and professional contacts separate. If this is true, then most of us do not tap into our most valuable online network when searching for a new job: Facebook.
Branch Out is an application that sits on your Facebook profile. Once installed, you can update your work experience much like you may have on your LinkedIn account. Using your Branch Out dashboard, you can invite all or select friends to your Branch Out network. You can then search them by name or by company.
If there is a company that you would like to work for, you can search your friends to see if anyone has either worked there in the past or currently works there. From your dashboard, you can also search for posted jobs on the Branch Out job board. You can also post jobs to the job board and/or send them to your friends on Branch Out.
Much like LinkedIn, some of the value comes not from who you know, but the friends of who you know. Based upon the six degrees of separation theory, LinkedIn calls this 1st, 2nd, or 3rd degree relationships. 1st degree relationships are those that you are connected directly to, 2nd degree are the friends of friends, and so on. Branch Out does the same thing with your Facebook friends, but only takes it out to the 2nd degree (friends of friends).
I have used both Facebook and LinkedIn for some time now. I must admit, I have thought about the Branch Out scenario more than once. Although I have some redundancy in my LinkedIn and Facebook accounts, there are many more contacts that I have on Facebook that are not on LinkedIn, and vice versa. I have thought that it would be a useful tool to import contacts on LinkedIn from Facebook like you would from your email contact list. For obvious reasons, this is still not possible. But the Branch Out application is the next best application that will help you tap into your "real friends."
I have just added this application to my Facebook page, and will be testing it out over the next several weeks. I will report back with my findings after I have gotten a good feel for the application and its effectiveness.
Looking forward, I can see potential limitations in using Branch out.
You need to invite your friends on Facebook to join Branch Out, so your network is limited to those that you invite and that accept your invitation. The effectiveness is limited to how many people are in your network.
From my viewpoint, a lot of my friends intentionally separate their professional and personal lives by using both LinkedIn and Facebook. There may be some resistance from your friends to mix business with leisure. But with recent changes to Facebook's friends structure, it is now much easier to group your Facebook friends and corresponding privacy settings by relationship type. These changes may accommodate users' needs to separate business and leisure activities. But again, this takes knowledge and adoption of settings and user habits.
This may take a substantial time investment to arrange all of this. It may be just as easy to invite those same people to join you on LinkedIn.
I can't help but to think that Facebook may roll out its own application in time. If they do, I'm sure integration would be more seamless.
I believe both Facebook and LinkedIn have been successful thus far because they have attained exponential user growth. But this user base has been based upon the premise that each serves as an online networking tool for either personal or business pursuits. Until now, users have taken comfort that the service caters to a specific need and audience. Branch Out obviously blurs those lines, which may be a risky proposition – risky, because it essentially requires mass users to adapt their online networking habits.
That said, there is an argument that the future of the internet includes the convergence of social networking on  the internet. While I am not a futurist, it could be said that we are moving in that direction anyway, and that this application may take advantage of this. Will it work? Time may tell. In the meantime, stay tuned. I will report back on Branch Out's usefulness.