[Thanks to Taryn for sharing the career research report on how to become a respiratory therapist and related occupational information.]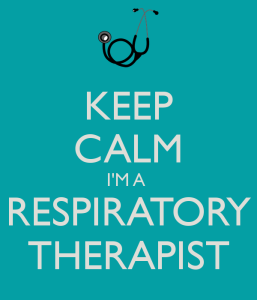 Last fall I was in a rut. I was sitting at a desk bored out of my mind and needed a change. I had been doing accounting for the last five years and was good at it, but I felt as if it was too routine for me and no longer a challenge. Knowing that I needed to make a change, I began researching different career options in the medical field, which had always attracted my interest. I read every single job description that was possibly imaginable and many seemed like something I would enjoy. Respiratory therapy, however, stuck out more than the others. I was drawn to the idea of independence, being challenged mentally and physically and the flexibility of the position. I immediately began to research respiratory therapy.
Respiratory therapists evaluate, treat and care for patients with breathing or other cardiopulmonary disorders. While under the direction of a physician, respiratory therapists have the main responsibility for all respiratory care treatments and diagnostics. The tasks that a respiratory therapist performs will greatly vary throughout the day. For example, parts of the day may be spent consulting with physicians about a patient's health and suggested treatment. They will also provide treatment to a patient and consult with them individually.
Respiratory therapists care for a large variety of patients. Depending on your area of specialty, types of patients may include those on life support or in intensive care units, premature infants whose lungs are not fully developed to elderly people who have diseased lungs. They may also provide temporary relief to patients with asthma and emphysema. Furthermore, they give emergency care to victims of accidents, heart attacks, stroke, drowning or shock.
Respiratory therapists administer treatment depending on the patients after a short physical examination and consultations. Treatment may be administered by testing the PH balance of blood (for oxygen), testing the lung capacity, drawing blood samples and analyzing in a blood gas machine, and mixing and administering aerosol medications. Respiratory therapists also connect patients who cannot breathe to a ventilator and monitor their oxygen flow.
After I looked into exactly what respiratory therapists do, I was quite surprised by the extent of their responsibilities. You have a great variety throughout your day, while constantly being challenged physically and mentally. What also is a great appeal to me is that not only do you have to work in a hospital, but you can also work in private practices or in at-home care. Another option that I found interesting is that respiratory therapists also work for pharmaceutical companies and conduct sleep research.
Currently, in order to enter the field you must obtain an Associates of Science degree in Respiratory Therapy from an accredited college. This is why I am attending my local community college, which has one of the only accredited programs in the area. Once I receive my AS in Respiratory Therapy I will be able to take the state exam in order to become licensed. My research, if anything, made me more anxious to complete my prerequisites in order to apply for the program so I can be one step closer to my goal.
References
– Informational Interview with a respiratory therapist
– www.bls.gov
– www.foothill.edu
– www.aarc.org
– www.caahep.org
– www.nbrc.org