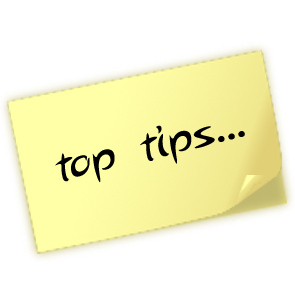 Here's a round up of the responses from a quick activity in a career/life planning class earlier today. The goal was to come up with the top career planning tips for figuring out a college major and/or career path.
Pursue something you're passionate about.
Know yourself, your interests, and passions, and pursue them.
Find out what you're good at and consider pursuing it.
Pursue something you're interested in.
Once you pick a major and career path, realize that it/you could change; more importantly, realize that that's okay.
Pick something you'll be interested in for the long run.
Just do something and see what happens – don't be afraid to take risks.
Take a career planning class if you're undecided to get some ideas.
Think about what classes you enjoyed in high school and build off that (fine tune your interests) in college.
Shadowing.
Think of what you enjoyed in high school and take related classes in college and reflect on it.
Think about what you've done in the past that you've enjoyed doing – would continue doing even if you weren't paid.
Look up what you want to pursue and see if you like it – keep looking if you don't find something at first.
Pursue something that fits your personality and lifestyle.
Pick something you're interested in for the long term; look up and explore many different resources; realize options exist in places where you're not at.
If in college and undecided, take a lot of different classes; take general education courses to buy yourself time.
Take time off to relax and reflect; but realize it's not a vacation.
Here's a round up of responses from a similar class activity the previous quarter.
General Advice
Make a pros and cons list.
Be decisive and realistic.
Think long term, not just short-term.
Get advice from friends, family, and experts.
Trust your gut.
Choosing a Major
Do what you enjoy, consider what it pays, where it's at, and if it's reasonable for you.
Test the subject out (e.g., take classes).
In choosing a school to transfer to, visit the school.
Choosing a Career
Look at your values.
Consider work and family balance
Research work aspects, skills and education required.
Talk to people who look like they've got it figured out.
Be rational; factor in your age.
Conduct thorough research (e.g., do an internship).
Set long term (evaluate stability factor) and short term goals (be specific).
Be willing to sacrifice.