[Thanks to Kristine for sharing the following career research report on becoming a kindergarten and related work information.]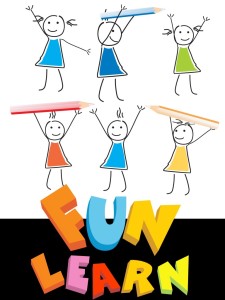 Becoming a Kindergarten Teacher
The occupation that truly interests me is being a kindergarten teacher. First and foremost, I believe that taking part in fostering children's development is not only enjoyable, but also rewarding. I chose this occupation because of my desire to work with children and their "little minds." Toddlers are inquisitive about their environment and they have a lot to learn; therefore, kindergarten teachers play a vital role in the many areas of children's development.
From 1 to 10, with 10 being the highest, my interest level concerning my chosen focus would be an 8. It's my first choice to have as an occupation because it suits what I'm looking for in employment and in my chosen career, which is child development.
In this field, I have had some experiences of 5 years working with a kindergarten school and learning centers that teach kindergarten-aged children as well. I have encountered children with different personalities and levels of development. Discovering and learning new information concerning children's cognitive, physical and social development is a day-to-day and enlightening experience for me and I still have a lot to learn.
Skills and Attributes
Kindergarten teachers need to have dedication and additional patience. Dedication is for dealing with children with diverse personalities and learning fashions. Additional patience is for mentoring and encouraging unruly or disobedient children.
Teachers, most especially, need to be ever so sensitive towards development and behaviors of children. This is a key skill to be able to properly distinguish the needs of each child. Teachers are the facilitators of children in school and they help children learn about their surroundings outside of homes and encourage socialization with other children and adults apart from the ones they already know. It is also in school that they can learn how to be responsible and take part as a team member.
To be a kindergarten teacher, one must have communication skills to be able to relate with and to children with differing verbal skills and also for the teacher to be able to convey to parents about their children. Organization skills and time management are also important. For me, they are usually interconnected. A teacher needs to be able to schedule different activities accordingly and in a smooth manner using the available time the class has. More importantly, a teacher must be loving to all his students and passionate enough to help them grow in all aspects.
Education and Employment Outlook
To become a kindergarten in California, one must possess a bachelor's degree, preferably in early childhood education. One must also carry a teaching credential.
Over the next 10 years, employment in teaching is set to increase due to a high number of retirements of teachers by 2010. Also, enrollment throughout 2010 is going to increase in schools especially in South and West states like California and Arizona.
Salary
According to the Indeed website (see reference), as of March 1, 2009, the average salary for a kindergarten teacher in California is $41,000 in USD. The average salary for kindergarten teachers was steadily increasing from July 2007 to April 2008. However, from then on it has been fluctuating. Also, according to the website,"Average kindergarten teacher salaries for job postings in California are 2% lower than average kindergarten teacher salaries for job postings nationwide."
Private School Versus Public School
I would like to work in a private kindergarten school where smaller classes are held and there is more freedom in creating lesson plans and curriculum to better suit the needs of the class. Public schools may sometimes give specific goals and curriculum that may limit the teacher's ability to complement to some more specific needs of the class.
What I've Learned
Although I had known that kindergarten teacher salaries are fairly low, through much research for this paper, I have discovered that being a day care teacher and pre-school teacher could also be quite interesting for me. Researching for this paper has also given me a broader view of what I need to accomplish, academically related, in order to become a kindergarten teacher. I have only started to work on getting a degree in child development and it may sometimes seem like a long stretch to achieve this goal. Nevertheless, one can only reach far when one begins to take a step forward.
References