[Thanks to Steph for sharing the career research report on how to become a private school teacher and related occupational information.]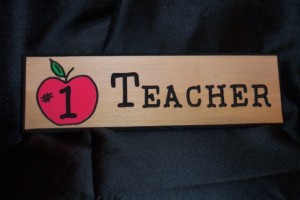 My chosen career is teaching, specifically to younger students, K-2, at a private school. Because I have been working with children for the past 12 years, I decided to explore the option of making a career out of it, considering that I am around kids all of the time anyways. I have been blessed with a natural ability to communicate with children in a non-threatening manner to them, so kids enjoy hanging out with me.
Two years ago, I worked as a teacher at a church. My students were toddler age, and although I wasn't very excited at the beginning with working with kids that were not learning anything from books, I grew to find that at this age, it's when they are learning how to socialize with other children, as well as their families and teachers. This is what gave me the idea to teach as a career, for no matter how old or what subject you are teaching to your students, they are constantly learning how to interact with other people, which I find to be incredibly interesting.
My ideal teaching career would be for a private school. I find that there is less communication in the public system than the private system, which makes it easier for students to fall behind. I also believe that the parents should have a very strong influence in what there child is learning, and how they are learning it. In private schools, like Challenger (1), which I visited while my brother was a teacher there, the school has family day events that really bring the whole family unit together, including other siblings and family members. This allows the students to really feel comfortable opening up about school and classes when they are away from campus. Naturally, there isn't exactly a way to get to a more advanced position, although raises are common, depending on the school. With more schooling, a teacher can go up the ranks to principal, or administrator, depending on the goals of the teacher.
With Cape.net (2), I did some research on the statistics of students in different types of private schools. This allowed me to see the ratio of students to teacher in different classrooms as well as the demand for teachers for certain types of schools.
Now, many schools are religious, and because I believe in teaching about all religions and ways of life, I would need to find a school that allows the freedom of education. This may be a difficult task, but it is one that I feel strongly about. I spoke with my previous boss (3) from the church that I worked at and got a lot of great information from her about the freedom in the classroom and the role that parents have on the children as well.
With schooling and getting teaching credentials, I will be able to attain my goal of becoming a teacher at a private school within the next few years. I feel that from writing a career research report, I learned more about the demographic of students in private schools, which will help me in the future when I am teaching about different cultures. I found that the pay scale is based on the amount of time working as a teacher (4), which is convenient for the long haul for it allows teachers to really dedicate ourselves to helping the students to learn.
References