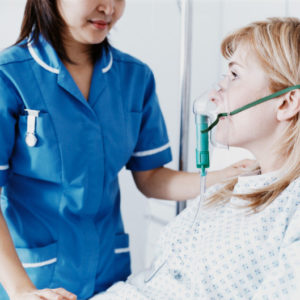 [Thanks to KL for sharing her informational interview report about being a registered respiratory therapist.]
My goal is to earn an Associates degree in Respiratory Therapy and to acquire a job as a Respiratory Therapist. For my Informational Interview Report, I chose a very good friend who is an RRT.
Below are my questions and her responses.
What is your job title and what is the name of your company/organization?
I am a Registered Respiratory Therapist at one of the bigger hospitals in the East Bay.
Briefly, can you let me know how you got to where you are today?
I went to a local East Bay community college and earned my Associate Degree in Respiratory Therapy.
On a scale of 1 to 10 (with 10 being "A LOT" and 1 being "NOT SO MUCH"), how much do you enjoy your job overall?
I would give my job a 10.
On a scale of 1 to 10, how good are you at what you do in your job?
I will give myself a nine, because there is always room for improvement.
How long have you been doing this job?
I have been an RRT since 1995. So you do the math.
What are your responsibilities? What is a typical day like?
I mostly work in the ICU. There are so many aspects of doing this job; it's hard to say. I come to work totally prepared, hair up, scrubs on, stethoscope in hand, badge, pens, and I get my assignment and report first thing. I pretty much have to make a running start. Every day is different from there. I have the responsibility to keep my patients alive and breathing. I follow Dr.'s orders, administer medications, draw blood, run back and forth to and from the lab. I answer to every code blue in my department and manage the ventilators. But that is just in the ICU.
What skills are required for your job?
I am required to be licensed by the National Board of Respiratory Care. I am required to have a California State License. I must complete 30 hours of continuing education every 2 years to renew my license. I must keep a clean record.
What do you enjoy doing the most? What are 3 things that you enjoy most about working at your company/organization?
I enjoy the feeling I get after a hard day at work. I enjoy doing a job that I love. I enjoy saving lives. It sounds cliche, but it's true.
We are union, and we have an amazing contract. The benefits are unparalleled! It's the best hospital I have ever been treated at; it's like the Cadillac of Hospitals. I am very proud to work here.
What are the greatest challenges of the job? What are the 3 most challenging aspects of working at your company/organization?
Keeping up with the workload and changes that happen all during the shift. Patients get moved around, orders constantly change and patient conditions change.
Night shift and working holidays. Somebody has to work 24/7. It's not usually me, but I remember. Also, the 12 hour shifts.
Can you share any general salary information, such as the range for entry level positions?
Salary at my hospital starts out a little higher than the state in general, but it is around 68,000 a year to start. The hospital gives raises according to the union contract. Medical and dental are paid. There is 401K matching. Retirement benefits as well.
What resources, such as websites or professional associations, would you recommend that I check out to learn more about this career?
You can check out the AARC.org.
What kind of opportunities are there for advancement, and how would one qualify?
There are specialties you can earn in the field of Respiratory Care. Polysomnography, Neonatal Specialist, Pulmonary Function Specialist, etc. There is also a Bachelors of Science you can earn and then teach or become a manager.
If I wanted to start in this career area, how would you recommend that I go about pursuing this career path?
The only way to become a Respiratory Therapist is to enter a Respiratory Therapy program, to graduate that program, to pass the State Boards and pass a background check. Then when you become licensed, it is up to you where to apply.
If you had a chance to do it all over again, what would you have done differently?
I would not change my job. I was lucky in that I knew what I wanted to do. I did not waste any time doing it.
Is there anyone that you think I should speak with about my career exploration, and if so, can I use your name?
Absolutely, please come and see me when you graduate!
Would it be all right if I kept in touch with you? How would you prefer that I keep in touch?
Yes. Please call me. You have my number.
I have known my interviewee for 7 years. I met her at the same hospital but in the Central Valley. I used to work with her, and I learned so much from her. There really isn't much that I learned from the interview, since I was a Respiratory Therapist for 15 years. I'm just more excited than ever to get back to work and back into the hospital setting.
The interview was pretty much a great reason to talk with my friend and solidify the plan of action to maybe apply at her hospital when I get my Degree and pass my exam. It was definitely a positive experience.
If I were to get a chance, maybe I would ask another RT about their job and maybe someone who works elsewhere. We both have had a great experiences; maybe someone at a different hospital may have a different type of experience and I could be missing something. I still have a chance when, during my Clinical Rotations, I will have the experience of going to other hospitals and meeting other RTs.
I sent my friend an Edible Arrangement. She loves chocolate. Thank you for the idea.